Notes on Battery Disposal:
Batteries contain valuable materials which are indeed harmful to the environment, but can be recycled. Used batteries must not get in the simple household waste, they must be disposed separately. For dealers is a legal obligation to take back old batteries, with our take-back obligation on batteries of the type that we carry as new batteries in our range or have done. Consumers are required to bring batteries to a suitable collection.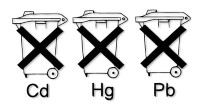 Responsible for management Batteries can be seen with the symbol of a crossed-out wheeled bin, which is printed on the packaging. For batteries containing more than 0.0005 percent mercury, more than 0.002 mass percent cadmium or more than 0.004 percent lead, the chemical name of the pollutant used in each case is located under the garbage icon - where "Cd" stands for cadmium, "Pb" stands for lead, "Hg" stands for mercury."
Of course, you can return the purchased batteries from us for proper disposal back to us. Please send a self-sufficient stamped packet with the tag "Battery Disposal" to:
POSZone Kassensysteme GmbH
Sprendlinger Landstr. 180
63069 Offenbach am Main
Germany